Atlanta has accommodated a remarkable range of events, conferences and gatherings over the years and has an exceptional travel infrastructure, including nearly 94,000 hotel rooms and an unrivaled selection of amenities for business travelers.  According to the 2010 Hotel Price Index, the average rate for a hotel in Atlanta was only 47% of the average rate in New York City.  Atlanta also offers greater value than the major non-U.S. arbitral centers, with corresponding figures of 41% with respect to Geneva, 51% for Paris, 52% for London, 58% for Singapore, 60% for Stockholm, 63% for Dubai, and 74% for Hong Kong.
Parties will also find a range of affordable options for their arbitration hearing.  The AAA/ICDR, JAMS, Henning and many local law firms offer hearing rooms equipped with the latest videoconferencing technology.  Local hotels and state-of-the-art conference facilities provide endless other possibilities at affordable rates.  Other services needed to support international arbitration proceedings are also readily available at reasonable rates, including court reporters (transcriptionists) and translators and interpreters capable of working in virtually any language.
Compared to other major global business and dispute resolution centers, Atlanta is affordable.  According to a 2010 study by KPMG, Atlanta has the lowest relative business cost of any of the top 10 largest metropolitan areas in the U.S.: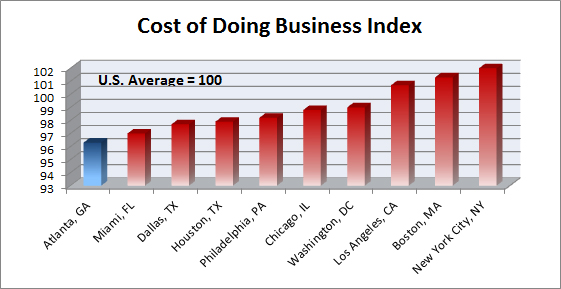 Cost of Doing Business Index (US)
Atlanta also has a lower relative business cost than major international cities.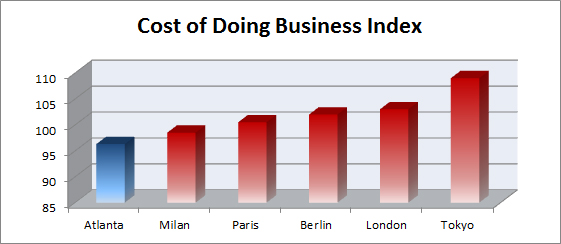 Cost of Doing Business Index (International)
Atlanta is home to many practitioners and arbitrators who are seasoned in multiple jurisdictions and legal traditions, including the civil law, and who are committed to the principle that arbitration, and particularly international commercial arbitration, should provide a simpler, less expensive and more expeditious form of dispute resolution than resort to national courts.  Agreements to restrict discovery in arbitration are upheld by arbitrators and the courts.  As stated in a series of 11th Circuit Court decisions, "the fact that certain litigation devices may not be available in an arbitration is part and parcel of arbitration's ability to offer simplicity, informality, and expedition." Caley v. Gulfstream Aerospace Corp., 428 F.3d 1359, 1378 (11th Cir. 2005); Dale v. Comcast Corp., 498 F.3d 1216, 1220-21 (11th Cir. 2007).